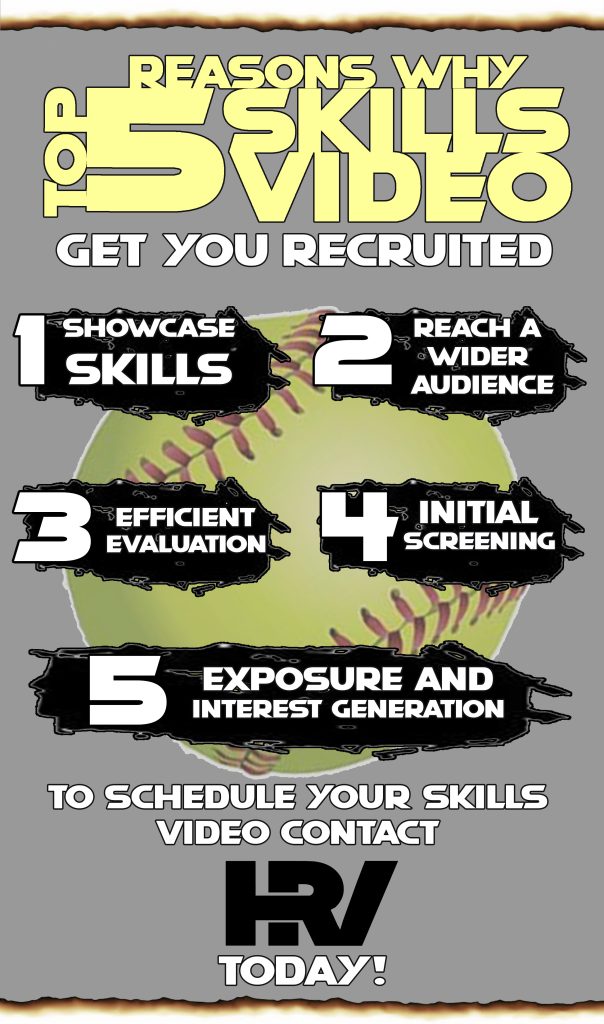 HRV Skills videos are an important tool for softball players (and athletes in general) who are looking to play at the collegiate level. Here are a 5 reasons why softball players often need a Skills video:
1 – Showcase Skills: A Skills video allows players to showcase their skills, talent, and abilities to college coaches who may not have the opportunity to watch them play in person. It provides coaches with a visual representation of the player's abilities, including hitting, fielding, throwing, pitching, and running. By including highlights, players can demonstrate their strengths and abilities effectively.
2 – Reach a Wider Audience: College coaches often have limited time and resources to travel extensively to watch potential recruits play. A Skills video allows players to reach a wider audience of coaches across different regions or even different states. It provides an opportunity for players to get noticed by coaches who may not have otherwise been aware of their talents.
3 – Efficient Evaluation: Coaches receive numerous inquiries from potential recruits, and reviewing individual videos allows them to evaluate players more efficiently. They can quickly assess a player's abilities, style of play, and potential fit for their team without having to commit significant time and resources to in-person evaluations.
4 – Initial Screening: A Skills video serves as an initial screening tool for coaches. It helps them identify players who match their team's needs and meet certain criteria, such as specific skill requirements or playing styles. If coaches find a player's video compelling, they may then decide to pursue further evaluation, attend live games, or invite the player to campus for a visit.
5 – Exposure and Interest Generation: Sharing a well-crafted Skills video with college coaches increases a player's exposure and generates interest from programs they are targeting. It allows players to make an impression and capture the attention of coaches, potentially leading to scholarship offers or invitations to join collegiate teams.
It's important for softball players to create a high-quality Skills video that effectively showcases their skills, athleticism, and game intelligence. It should be concise, well-edited, and highlight the player's best moments to make a positive impact on college coaches. For more information on how to get an HRV Skills Video, please visit horvatrecrutingvideos.com or DM on all Social Media platforms.